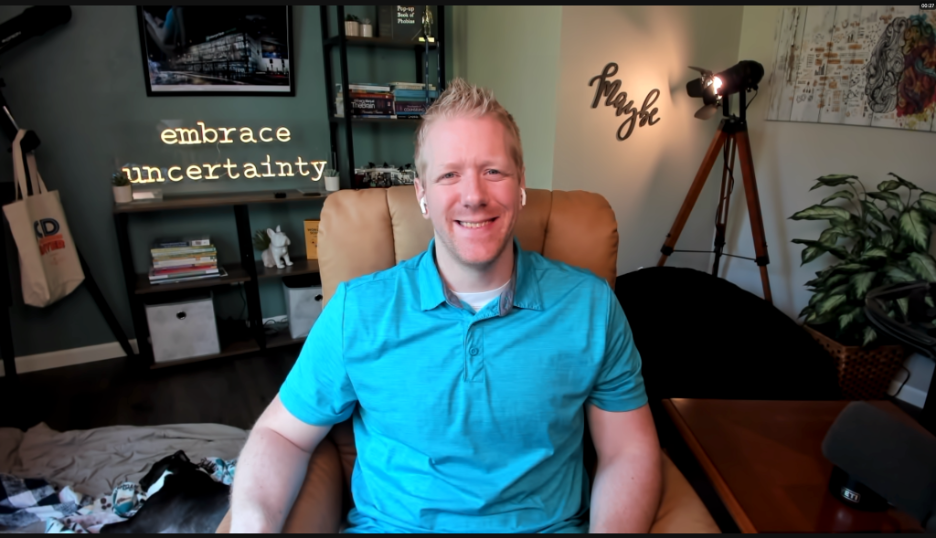 by Michael Stier, LCPC
As a Licensed Clinical Professional Counselor (LCPC), I am among a growing trend of mental health professionals who provide all services exclusively telehealth. I want to share reflections of what I love about telehealth and, more specifically, the many challenges and benefits given my unique specialties in treating anxiety and OCD via various technology platforms, which I have been doing full-time over the last three years (pre-, during, and post-pandemic).
Before I get started, I do want to acknowledge that telehealth is not for every clinician or for every consumer of mental health services. My observations here are not designed to convince you that it is. However, I get asked many questions about the effectiveness of video or phone-based therapy and whether telehealth works for psychotherapy in general. However, as a specialist, not a generalist, I'm even more intrigued by these questions specifically for interventions created for problem areas such as OCD, phobias, PTSD, social anxiety, and other  anxiety disorders that rely heavily on exposure-based therapies and Exposure and Response Prevention (ERP). But first, a little backstory.
Telehealth became a necessity for me (and many others) in March, 2020. However, before this time, telehealth was still a developing technology and I would normally hold 3 to 5 appointments every week virtually. It was incredibly helpful to be able to reach people that were not near my physical location. It became easier to adjust schedules to do therapy, virtually. As we are well aware, the world can change quite a bit and so it did for all of us in early 2020 when COVID issues demanded the use of video-based therapy, rather than in person, for nearly everyone. While many clinicians and treatment centers  have re-established some percentage of in-person therapy (including my team at Anxiety Specialists of Atlanta), the following is a collection of some of my reflections after doing full-time therapy for three years exclusively in the telehealth format, the format I will likely continue to rely on solely as my method of treatment delivery in the years ahead.
Show me the evidence. As an anxiety specialist and a mental health practitioner, I believe evidence and data are an incredibly important aspect of choosing therapy modalities and interventions, and there are many options out there that do and do not have evidence to support their choosing. As an evidenced-based practitioner that values following what scientists have concluded to be effective or not effective, number one on my list has to be what research says about the effectiveness of teletherapy compared to meeting with someone face-to-face. I won't bore you with too much scientific information (although I will link some of the research below if you want to "nerd out"), but there have been multiple studies that have demonstrated that there is no statistically relevant difference in the effectiveness of therapy online vs face-to-face. In a large meta-analysis (which brings together many studies conducted independent of one another) done in early 2022, it was found there was no significant difference in patient outcomes between telehealth and face-to-face therapy (Greenwood et al, 2022). More specifically with OCD and Exposure and Response Prevention, a study done recently by Feusner, et al. (2022) found that ERP administered virtually saw decreases in client symptoms and improvements to quality of life that mimicked what was found in similar studies when administering face-to-face ERP treatment. I'm eager to see more research answering this question, but for now, the early and most robust research supports a clear conclusion that you will be receiving effective and quality treatment in person or via telehealth technology!
I'm there with you. A challenge as a face-to-face exposure therapist is to be with you where anxiety hits you the most, in your everyday life. If you were meeting in my office, we can talk about many triggers and even use some things around my office as ways to work on challenging your anxiety. However, the things that make you feel most anxious are usually not at my office but in your life around you. The wonderful thing about teletherapy is I can be wherever you are without much extra complication and with reduced time and costs of me or you meeting in locations off-site. If things make you anxious at your house, I can be there. If things make you feel anxious while driving your car, I can be there. If things make you anxious at the store, I can be there. Even better, I am more discrete than if I was there with you in person. How much would you question someone walking through a store with their earbuds plugged into their phone? Exactly. The advantage of this is that I can be wherever your anxiety lives to help you through those situations more conveniently and with more confidentiality.
Finding good treatment isn't easy. The unfortunate truth is that finding a therapist that practices evidence-based care for anxiety and OCD is hard to find. I am located in Southern Illinois near St. Louis, Missouri (and I have licenses in Illinois, Missouri, and Georgia). Unfortunately, I am the only practitioner that I know of within southern Illinois. You may not have a qualified OCD specialist near you but the wonderful thing about teletherapy is that as long as I (or another specialist) has a license to work in your state, we can be your therapist! Though my team's central home offices are in the northern suburbs of Atlanta, Georgia, me and my team have licenses and other professional credentials as telehealth providers (e.g., PSYPACT®) that permit us to see clients in over 30 states around the U.S via telehealth. We may be hours physically from you but that doesn't have to be a barrier to receive the evidence-based treatment that you deserve.
Convenience. Our lives can be busy and it can be difficult to find time with all of our life responsibilities to engage in therapy. As a parent of two young boys, I know time is at a premium. Responsibilities fill up our schedules quickly between work, family, friends, hobbies, etc. While even in teletherapy I will still need an hour of your time, all of the other barriers of time are reduced. The flexibility to access therapy virtually gives us many more options to fit therapy sessions into your schedule, and ours as providers. Have a lunch hour at work? You could hop on a session with me. Kiddo went down for a nap? We can talk all without disrupting nap time (parents, you know rule #1 is not to disturb nap time!). When we are not stuck driving to a physical office, therapy becomes much more accessible and less of a logistical stressor.
Okay, this one is partly serious and partly humorous. However, when we do teletherapy (if you have pets), I get to see them. Do we really need any other explanations of the positives beyond this? Fred and Edith (my Boston Terriers) would LOVE to meet you.
These are my five favorite things that I love about telehealth and what makes me see it as such a valuable way to engage with therapy. Having nearly equal experience in meeting with clients face to face and virtually, I can also say building a relationship with someone seems largely unaffected by the way therapy is delivered, assuming your therapist is already good at establishing a healthy, compassionate, and supportive relationship (which may assume a lot). My personal and professional experiences tell me that my relationship and connection with clients seem the same whether I have worked with them in person or meeting them virtually. If you are on the fence about virtual therapy, I hope these reflections were helpful. Also, if you are on the fence, give virtual therapy a shot. You never know how an experience will be until you give it a chance!
Finding the therapist that "gets" you is important, no matter how you see them, no matter the problem. Please know that there is wonderful, evidence-based help out there for you.
Feusner J, Farrell N, Kreyling J, McGrath P, Rhode A, Faneuff T, Lonsway S, Mohideen R, Jurich J, Trusky L, Smith S. Online Video Teletherapy Treatment of Obsessive-Compulsive Disorder Using Exposure and Response Prevention: Clinical Outcomes From a Retrospective Longitudinal Observational Study.J Med Internet Res 2022;24(5).
Greenwood H, Krzyzaniak N, Peiris R, Clark J, Scott AM, Cardona M, Griffith R, Glasziou P. Telehealth Versus Face-to-face Psychotherapy for Less Common Mental Health Conditions: Systematic Review and Meta-analysis of Randomized Controlled Trials. JMIR Ment Health. 2022 Mar 11;9(3).
Face your fears. Embrace uncertainty. Seek out meaningful experiences. 
Michael Stier, LCPC is a Licensed Clinical Professional Counselor, and owner of Michael Stier, LLC, a solo practice that specializes in treating anxiety, OCD and Health Anxiety. As a telehealth provider licensed currently in two states, Michael sees patients from a variety of cities in Illinois including Edwardsville / Glen Carbon, O'Fallon, Belleville, Carbondale, Springfield as well as Chicago, Aurora, Naperville, Jolliet, Rockville, Peoria, and Champaign / Urbana. He is also licensed in Missouri and often sees patient from St Louis, Chesterfield, St Peters, Webster Groves, Kirkwood, and Wildwood / Ballwin.