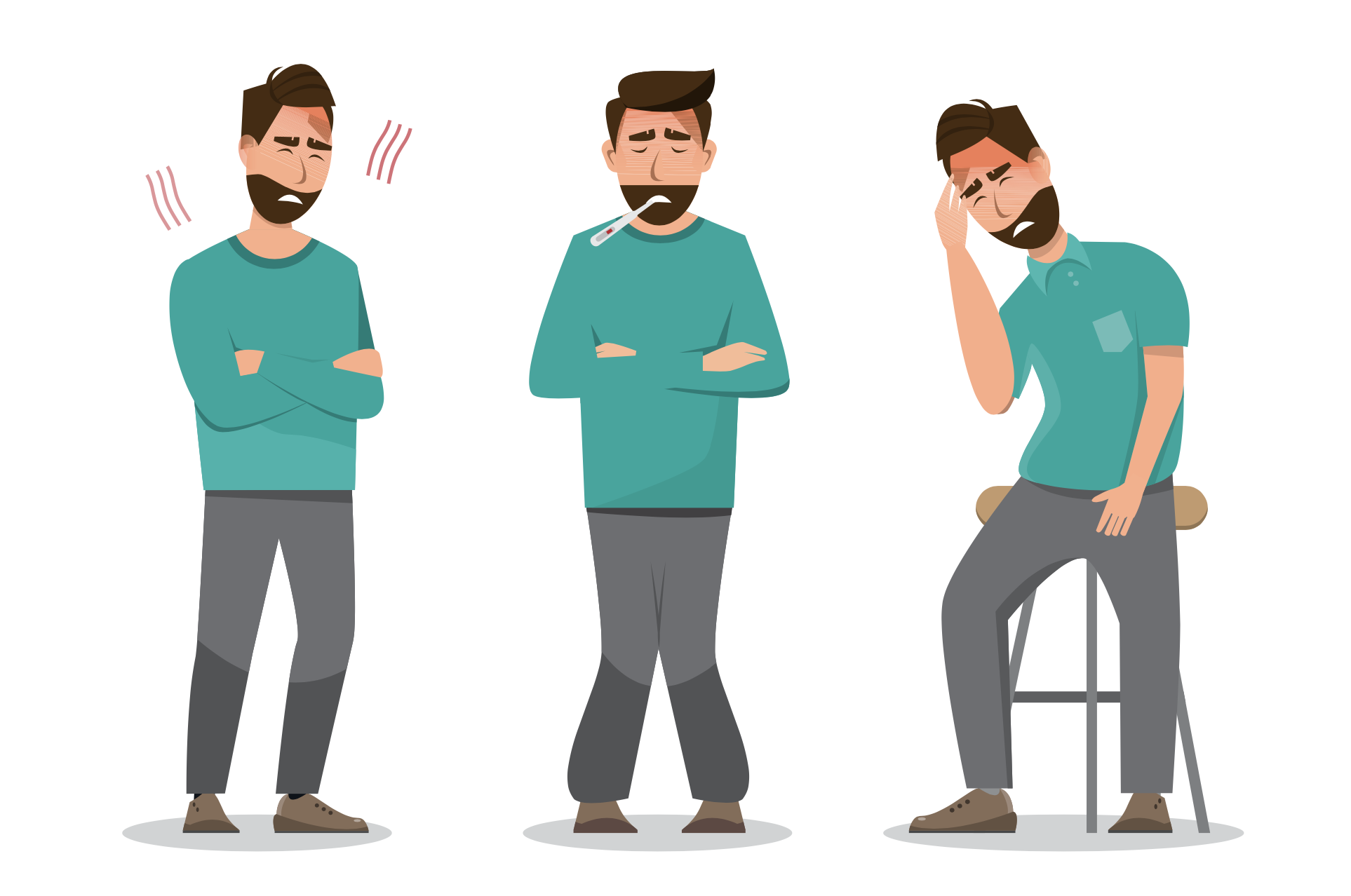 by Michael Stier, LCPC and Dr. Josh Spitalnick
You sit in the doctor's office for the 8th time this year and it is only May. As you rummage through the same magazines that you recognize from multiple other visits, you wonder if the doctor will ever find out what's wrong with you. You wonder if the nurses really know what they are doing and you are still questioning whether your blood work got mixed up because you know something is wrong. Is there any way out of this endless loop of anxiety about your health? You believe the answer is a resounding YES, but it will take finding that special doctor, getting that special MRI or CT. No appointment assures your fears; no test results provide the answer that you seek: that there is nothing (or something) wrong.
This endless loop of anxiety around health reportedly affects at least 4-5% of the population, conservatively. Health care providers and researchers recognize, however, that this number represents only a portion of health anxiety sufferers. Estimates are likely higher than 10% of the population, especially post-pandemic. Health anxiety, also known as hypochondriasis, illness anxiety, or somatic symptom disorder, is characterized by intrusive and persistent fears of medical issues with or without the presence of real physical symptoms. Even if there is no basis for health concerns, even if  you have been given a "clean bill of health" by medical professionals, the health anxiety sufferer is convinced that something still might wrong, terribly wrong.
In fact, something is terribly wrong if you have health anxiety. This makes the health anxiety sufferer actually partially accurate in their concern of an undiagnosed illness. Sadly, the illness is not something you could have likely predicted; most medical providers lack the tools, the laboratory, or medical devices to actually diagnose the debilitating illness we are hinting at. Understanding this, realizing what we are about to diagnose, this is where recovery, and taking your life back, all begins.
While you may feel like you are trapped in this endless cycle of medical uncertainty, embracing that very uncertainty is one step out of this endless cycle. I know, I know, stick with us here. All the health anxiety sufferer wants to know is: either for sure there is nothing medically wrong or for sure there is definitely something wrong. And they want to know that they will be okay. However, it's crucial to understand that it is not your fault when you get stuck worrying and wondering. Unfortunately, with health anxiety, the specific answers you seek often don't exist. The sooner you recognize this, the sooner recovery and taking your life back moves forward.
So, what do you do?
First things first: It's a healthy starting place to coordinate with medical professionals to get routine check-ups, follow provided recommendations about medical care, and live a reasonably healthy lifestyle. If you are working a therapist who specializes in health anxiety, your therapist will likely consult with your medical providers or at least make sure you have followed through with basic medical appointments. It's also important to know your family medical history, if you have access to this information. While medical professionals are not 100% accurate in their ability to diagnose or rule out diseases, it's also important to not take medical advice from social media, Dr. Google, or your know-it-all uncle Larry who thinks he knows everything about bumps, bruises, death and dying (no offense, Uncle Larry).
Unfortunately, even if you follow sound medical advice and keep up with your medical appointments as recommended, these healthy actions still may not answer that aforementioned question: is there something wrong? And worse, if there is something wrong medically, health anxiety will rear its ugly head and convince you that its wayyyy worse that what the doctors have said. And though many of us will battle a serious medical disorder at some point in our lives (over 1/3 of Americans will get cancer at some point), health anxiety in these instances is normal and expected, but still not going to help the process of recovery.
This leaves us with a few options to consider:
Continue an endless pursuit of the diagnoses related to your unexplained physical symptoms.
Keep trying to plan for, wait for, worry about, and uncover all the possibilities of illnesses you might get one day, even though there are no symptoms or events to explain the possible illness yet.
 Replace meaningful and valuable activities with web searches, unnecessary doctors' appointments, constantly checking your blood pressure or your oxygen levels.
Asking your friends and loved ones if they are concerned about you
Spending endless hours thinking about death and dying, worrying about the impact it will have on your family when you are gone.
In essence, spending energy on the future, on dying and being gone, rather than living and the here and now.
–OR–
Embrace the relatively good, medically relevant answers that you have received, that there is no identifiable disease.
Consider that even if you do get ill in the future, you will find the strength and resilience to try and beat the disease and live life in the process.
Practice living in a world of endless possibilities (good and bad), not probabilities.
Accept the reality that our bodies make all sorts of weird noises and it creates weird and unexplained sensations (especially as we age).
Replace web searches and excess doctors' appointments with meaningful and valuable activities that have little to do with being ill or dying.
In essence, choose to focus your mind and actions on the positive and healthy possibilities rather than death and dying.
While these healthier cognitive and behavioral shifts are challenging, and require lots of practice, patience, and self-compassion, this "here and now" approach offers us a chance to be able to assert autonomy in our lives and feel more in control.
When you practice accepting and embracing the unknowns, take that opportunity to spend a day doing something you love instead of sitting in a doctor's office. Challenge yourself to spend an evening surrounded by loved ones, enjoying quality time instead of on WebMD. Encourage yourself to go to a fun event or concert instead of staying "safe" at home just in case something medically goes wrong. Thank your doctors for caring for you rather than questioning them for being careless or incompetent.
Eckhart Tolle, spiritual teacher, once said, "realize deeply that the present moment is all you ever have." If you spend time and energy making sure that bad things won't happen, you lose sight of the good ones all around you. Being blind to "life's little-gems" is a slow death you didn't see coming, but it's a death you CAN actually prevent. Realizing this is another huge step towards recovery and truly taking your life back.
Face your fears. Embrace uncertainty. Seek out meaningful experiences. 
Michael Stier, LCPC is a Licensed Clinical Professional Counselor, and owner of Michael Stier, LLC, a solo practice that specializes in treating anxiety, OCD and Health Anxiety. As a telehealth provider licensed currently in two states, Michael sees patients from a variety of cities in Illinois including Edwardsville / Glen Carbon, O'Fallon, Belleville, Carbondale, Springfield as well as Chicago, Aurora, Naperville, Jolliet, Rockville, Peoria, and Champaign / Urbana. He is also licensed in Missouri and often sees patient from St Louis, Chesterfield, St Peters, Webster Groves, Kirkwood, and Wildwood / Ballwin.
Josh Spitalnick, PhD, ABPP is a Licensed Psychologist, Board Certified in Behavioral and Cognitive Therapy, and CEO/Owner of Anxiety Specialists of Atlanta, LLC. Dr. Spitalnick treats all ages with specialties in OCD, Health anxiety, and pediatric anxiety issues. Dr. Spitalnick is a PSYPACT® participating provider, able to provide telehealth services in 28 states, including: AL, AR, AZ, CO, DE, GA, IL, KS, KY, ME, MD, MN, MO, NE, NV, NH, NJ, NC, OH, OK, PA, TN, TX, UT, VA, WI, WV, and WDC.